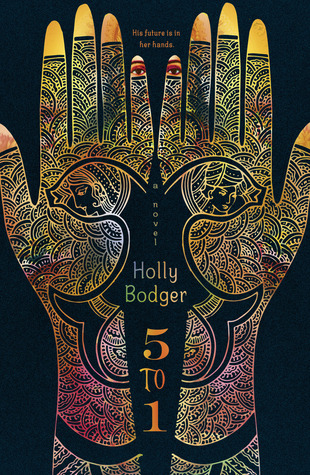 Title:
5 To 1
Author:
Holly Bodger
Expected publication:
May 12th 2015 by Knopf Books for Young Readers
Source:
eARC courtesy of the publisher for an honest review
Goodreads
"In the year 2054, after decades of gender selection, India now has a ratio of five boys for every girl, making women an incredibly valuable commodity. Tired of marrying off their daughters to the highest bidder and
determined to finally make marriage fair, the women who form the country of Koyanagar have instituted a series of tests so that every boy has the chance to win a wife.

Sudasa, though, doesn't want to be a wife, and Kiran, a boy forced to compete in the test to become her husband, has other plans as well. As the tests advance, Sudasa and Kiran thwart each other at every turn until they slowly realize that they just might want the same thing.

This beautiful, unique novel is told from alternating points of view-Sudasa's in verse and Kiran's in prose-allowing readers to experience both characters' pain and their brave struggle for hope."
Thoughts:
Enticing and riveting, 5 TO 1 is one of those novels that completely took me by surprise. To be honest, had I not been invited to join the blog tour, I probably wouldn't have heard of 5 TO 1 let alone read it. You guys, I cannot tell you how thrilled I am that I was, because this book- this imaginative and compelling book- is an example of why I became a blogger.
First off, we must talk about the writing style. Bodger not only transitions from Sudasa to Kiran's point of view but also changes the writing style. Sudasa's is written in verse (LOVE verse) whereas Kiran's is in prose. By doing this, each voice is both unique and beautifully portrayed. You get to experience both of their pain, their struggles, and glimpse into what it's like to live in two completely different castes. Koyanager may seem like a Utopia to some, yet it's anything but this.
One might think Sudasa's life is one made of dreams. She comes from a high ranking family, and she's also a female- a precious commodity desired by all. One might also assume Sudasa (because of her gender) is also oppressive, like some of the other women in this society. As for Kiran, you might think he is obedient. All men must be in this world. You might also pity him, coming from a poor farming family and also being a male. The thing is, this novel teaches you that not everyone is who they seem nor are they defined by their position in life. You shouldn't assume a person is and nothing more than their status. Even though both characters thought they knew of the other based on obvious physical wealth and position, they truly didn't know the core of who the another really is. I love that this novel shows you not everyone rich or high ranking is greedy and selfish and not every hard-working poor person needs to be saved. 5 TO 1 opens your eyes to a dysfunctional society where people may be alive, but they're not genuinely living.
My only complain about this novel is that I didn't understand some of the terminology used, since I'm not familiar the Indian culture. I wish the author explained this more or maybe referenced it early on. Other than that, I recommend this book to fans of THE SELECTION and WITHER. It's a fantastic novel wrapped in a gorgeous cover.
Rating:

4 Stars
GIVEAWAY:
Thanks to the fabulous people at Penguin Random House, I am giving away one copy of 5 TO 1. This giveaway is open to US and CA participants only and ends May 17th. Good luck, and may the odds be ever in your favor.
a Rafflecopter giveaway