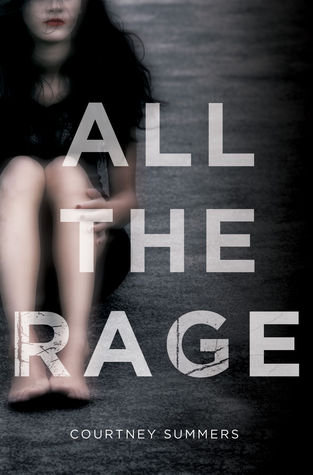 Title:
All The Rage
Author:
Courtney Summers
Published:
April 14th 2015 by St. Martin's Griffin
Source:
eARC courtesy of the publisher for an honest review
Goodreads
"The sheriff's son, Kellan Turner, is not the golden boy everyone thinks he is, and Romy Grey knows that for a fact. Because no one wants to believe a girl from the wrong side of town, the truth about him has cost her everything—friends, family, and her community. Branded a liar and bullied relentlessly by a group of kids she used to hang out with, Romy's only refuge is the diner where she works outside of town. No one knows her name or her past there; she can finally be anonymous. But when a girl with ties to both Romy and Kellan goes missing after a party, and news of him assaulting another girl in a town close by gets out, Romy must decide whether she wants to fight or carry the burden of knowing more girls could get hurt if she doesn't speak up. Nobody believed her the first time—and they certainly won't now — but the cost of her silence might be more than she can bear. 

With a shocking conclusion and writing that will absolutely knock you out, All the Rage examines the shame and silence inflicted upon young women after an act of sexual violence, forcing us to ask ourselves: In a culture that refuses to protect its young girls, how can they survive?"
Thoughts:
One of the things I love about Courtney Summers is that she writes books involving real issues and isn't afraid to be brutal. ALL THE RAGE is no exception. Honest, heart-wrenching, and compelling, this is a book that simply needs to be read.
ALL THE RAGE transitions from the incident to what happened two weeks before, and then fast forwards to now. Romy Grey knows all about what Kellan Turner is really like. The thing is, when the sheriff and his son deem you a liar, it's kind of hard to just be a normal teenager, especially when you're telling the truth. Everyone turns their back to Romy, even her best friend Penny. It's bad enough when everyone hates you, it's even worse when they lash out. I know I've already said this, but I have to say it again: This book is brutal. There were moments when I just had to place the book down and walk away. Rage, all I felt was pure rage for these kids who just didn't care about being decent people. Did anyone once think to ask Romy if she was okay? There were so many times when I just wanted to scream at Alek, Brock, and even Tina for being such complete and utter jerks. Whatever happened to human compassion? I honestly don't think I could have been as strong as Romy was during this whole ordeal.
I would love to tell you that there's a bright side to the torture, but there really isn't. Romy is broken, on the verge of falling over the edge. She's barely hanging on, and sadly things will get worse before they get better. There were moments when I wanted Romy to just tell her mom what happened. Of all the characters I ached for (Romy, Penny, Leon, etc.), her mother was on the top of my list. All she wanted to do was reach out and help her daughter, but Romy was so closed off- rightfully so.
No, I think one thing that surprised me was the character development in Tina. To be frank, I absolutely hated this girl and couldn't understand why she was such a (excuse my language) bitch. In the end, she just ended up being a victim of high school hierarchy and rumors. She believed what she wanted to, because the truth was too terrifying and horrifying to be admit.
Though I never felt comfortable reading this book, I admire Summers for going there and not being afraid to point out rape culture and flaws in our society. This was not an easy read, but it was a real one and one I won't be forgetting anytime soon.
Rating:


4 Stars
Giveaway:
Thanks to the fabulous people at St. Martin's Griffin, I am giving away one copy of ALL THE RAGE. This giveaway is open to US and CA participants only and ends May 17th.
a Rafflecopter giveaway