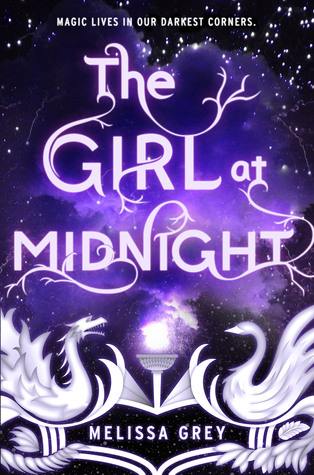 Title:
The Girl at Midnight
Author:
Melissa Grey
Published:
April 28th 2015 by Delacorte Press
Source:
Copy sent by the publisher for an honest review
Goodreads
"Beneath the streets of New York City live the Avicen, an ancient race of people with feathers for hair and magic running through their veins. Age-old enchantments keep them hidden from humans. All but one. Echo is a runaway pickpocket who survives by selling stolen treasures on the black market, and the Avicen are the only family she's ever known.

Echo is clever and daring, and at times she can be brash, but above all else she's fiercely loyal. So when a centuries-old war crests on the borders of her home, she decides it's time to act.

Legend has it that there is a way to end the conflict once and for all: find the Firebird, a mythical entity believed to possess power the likes of which the world has never seen. It will be no easy task, though if life as a thief has taught Echo anything, it's how to hunt down what she wants . . . and how to take it.

But some jobs aren't as straightforward as they seem. And this one might just set the world on fire."
First line:
"The Ala had gone to the library in search of hope."
Thoughts:
THE GIRL AT MIDNIGHT combines everything I love in fantasy novel: A heroine to admire, an unforgettable quest, and gorgeous writing that kept me reading until the very end. If you're a fan of Cassandra Clare, Leigh Bardugo, and Laini Taylor, this is the book for you. Needless to say, I devoured this novel.
As you can see in the summary, there is an epic war between the Avicen and the Drakharin. Where the Avicen have feathers instead of hair, the Drakharin have scales (the "birds" versus the "dragons"). Echo is neither of these and is in fact human. When she was just a young girl, after living in the streets of New York, Avicen adopted her as one of their own, and she now spends her time split between her human world in New York and her home with the Avicen. Not all of the Avicen have accepted her, but that doesn't mean she doesn't have friends.
Now, you must know that Echo is a thief and a pretty darn good one. It's how she survives, taking the goods she steals and selling them in the black market. Thus, when Ala approaches her and tells her that the only way to stop this centuries old war is to find the mythical firebird, she accepts the challenge and is sent straight into enemy territory. She's given a map which leads her from one clue to the next. Think of the Percy Jackson novels and how something may sound simple but can turn complicated in a heartbeat. The journey is a great one, so be sure to pay attention and enjoy the ride.
The novel is told through multiple perspectives, and I'm incredibly grateful for this. You get to see how this war not only affects Echo but also Cauis and others as well. Though I enjoyed each voice, Echo's was my personal favorite. I just love how sassy and strong she is, and I loved watching her grow throughout the novel.
I honestly don't want to write too much, because I don't want to give anything away. THE GIRL AT MIDNIGHT is one of those novels that you just have to trust and try your best not to read about going in. Trust that it will be good, because it really freaking is. There's romance, adventure, suspense, and a whole lot of awesome in this novel. If you're a fan of THE DAUGHTER OF SMOKE AND BONE and CITY OF BONES, this is the book for you. Really, it's that good!
Rating:

5 Stars
Giveaway:
Thanks to the fabulous people at Penguin Random House, I am giving away one copy of THE GIRL AT MIDNIGHT. This giveaway is open to US participants and ends May 31st. Good luck and may the odds be ever in your favor.
a Rafflecopter giveaway