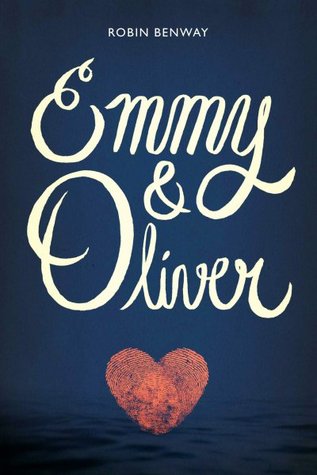 Title:
Emmy & Oliver
Author:
Robin Benway
Published:
June 23rd 2015 by HarperTeen
Source: ARC courtesy of the publisher for an honest review
Goodreads
"Emmy's best friend, Oliver, reappears after being kidnapped by his father ten years ago. Emmy hopes to pick up their relationship right where it left off. Are they destined to be together? Or has fate irreparably driven them apart?

Emmy just wants to be in charge of her own life.

She wants to stay out late, surf her favorite beach—go anywhere without her parents' relentless worrying. But Emmy's parents can't seem to let her grow up—not since the day Oliver disappeared.

Oliver needs a moment to figure out his heart.

He'd thought, all these years, that his dad was the good guy. He never knew that it was his father who kidnapped him and kept him on the run. Discovering it, and finding himself returned to his old hometown, all at once, has his heart racing and his thoughts swirling.

Emmy and Oliver were going to be best friends forever, or maybe even more, before their futures were ripped apart. In Emmy's soul, despite the space and time between them, their connection has never been severed. But is their story still written in the stars? Or are their hearts like the pieces of two different puzzles—impossible to fit together?

Readers who love Sarah Dessen will tear through these pages with hearts in throats as Emmy and Oliver struggle to face the messy, confusing consequences of Oliver's father's crime. Full of romance, coming-of-age emotion, and heartache, these two equally compelling characters create an unforgettable story."
Thoughts:
You guys, EMMY & OLIVER is a fabulous example as to why I'm an adult still reading YA novels. There aren't enough words to describe how much I absolutely adored this novel from the beginning until the bittersweet end. Just replaying the book in my head is making me want to reread it and experience it all over again.
I love that the book starts off with the day Oliver goes missing. They were just kids, and it was a day like any other day (with the exception of that precious note). No one knew that whenever they saw Oliver run to his father's car, it would be the last time they'd see him for years.
Whenever Oliver returned, things weren't exactly easy for him nor Emmy. It reminded me how awful high school and teenagers can be. With that being said, at least they had each other even if they didn't know they did. Oliver and Emmy's relationship progressed perfectly going from awkward, rekindling, friendship, and then something more. Oh, and the feels? So many different feelings. I'm so glad I didn't read this book out in public, because onlookers would most likely assume I'm an unstable crazy lady. I went from smiling to being heartbroken to laughing then swooning, and then (as if I wasn't feeling enough) being on the verge of tears. Too much yet not enough at the same time.
Now, I will say that the flashback chapters were nice, but I also could've lived without them. They often came out of nowhere and though charming, it somewhat threw the pacing of the book off for me. The best way I can think of to describe it is when you're telling someone a story, and someone else interrupts you in the middle of you telling said story to tell their own story. It's like that though less annoying.
Overall, I'm just going to reiterate once more how amazing this novel is. I'm so jealous of anyone who hasn't read this yet and gets to experience it for the first time. Without a doubt, this is one of my favorite contemporary books I've read this year, and I've read a ton lately!
Rating:

5 Stars
Giveaway time:
Thanks to the fabulous tour host and people at Harper Teen, we're giving away two incredible upcoming ARCs-
*
WALK ON EARTH A STRANGER by Rae Carson
*
WHAT WE SAW by Aaron Hartzler
Not going to lie, I'm crazy jealous of whomever wins this prize! Enter by filling out the Rafflecopter form below.
Be sure to catch the rest of the blog tour for more chances to win!
6/22 - The Midnight Garden
6/23 - Mundie Moms
6/24 - Reading Teen
6/25 - Addicted 2 Novels (YOU'RE HERE!)
6/26 - Andi's ABC's
6/29 - Stuck In Books
6/30 - Swoony Boys Podcast
7/1 - Step Into Fiction
7/2 - Supernatural Snark
7/3 - Fiction Fare

a Rafflecopter giveaway
About Robin Benway:
I'm the author of "Audrey, Wait!", "The Extraordinary Secrets of April, May & June", and the AKA series. My new book "Emmy & Oliver" will be released on June 23, 2015. I live in Los Angeles with my extremely stubborn shih tzu, Hudson. I've gotten a lot better at cooking. I still love coffee. We should be friends.
Connect with Robin:
*
Robin's website
*
Twitter
*
Facebook
*
Instagram
EMMY & OLIVER:
*
Amazon
*
Goodreads
*
Barnes and Noble
*
iBooks
*
The Book Depository