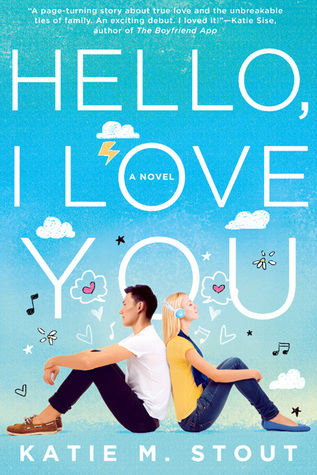 You guys, I have to start by telling y'all how absolutely amazing HELLO, I LOVE YOU is. I'm not saying this because I'm part of the blog tour. I'm saying this because it's true, and you can really see Katie Stout's passion through every word she writes. It's as fun as that gorgeous cover is!
Anyway, I have the honor of hosting Katie herself as she talks about her travels and how it has inspired her writing. Without further ado, here's Katie!
I love to travel, and I've been incredibly fortunate in my life to have been all over the world, from Hong Kong to Budapest to Cape Town. Some of the biggest adventures of my life have happened in other countries, and I have zero doubts that my travel experiences have affected and inspired my writing.

My first trip overseas was to Hanoi, Vietnam, when I was 9. We had family living over there, and I visited with my mom and sister. It was an eye-opening experience, and I never quite shook my interest in other cultures and countries.

In high school and college, I traveled wider, to Thailand, Ecuador, China, Laos, Myanmar, South Korea, and Colombia. But it wasn't until I graduated college and joined the Christian missions charity Operation Mobilization that I really started scratching off countries on my travel bucket list. In the span of two years, I went to England, Germany, South Africa, Singapore, Scotland, France, Zambia, and a ton more other places. It felt like I lived in airports.

I remember seeing Beth Revis get asked somewhere (I think on Tumblr?) what was her biggest piece of advice for writers, and she said it wasn't to read or write a lot (both of which are important) but to live—to have adventures and experience new things. That's where stories come from, and that's what fuels your muse.

I couldn't agree more.

Traveling has changed my life. It's put me in really difficult situations, like when I rode on a bus in Myanmar for 36 hours through the jungle, and amazing ones, like sitting at the base of the Eiffel Tower at 11 o'clock at night watching it light up or riding a pony in the Andes Mountains in Ecuador.

Traveling has shown me that my American, middle class way isn't the only way—or even necessarily the best way.

Traveling has given me empathy and broken my heart for the many different kinds of hurting people around the world.

Traveling has introduced me to amazing foods—Pad Thai in Chiang Mai, chicken tikka in London, schnitzel in Heidelberg, ceviche in Quito, and milk tea in Hong Kong.

Traveling has given me stories to tell. It constantly inspires me to explore, to be creative, and above all, to be brave.

I love this quote from Augustine, an ancient philosopher and theologian, who said, "The world is a book, and those who do not travel read only one page."

Let's all read more pages in the world's book!

Budapest, Hungary
Vientiane, Laos
Etosha National Park, Namibia
Glencoe, Scotland
Seoul, South Korea
About The Author:
Katie M. Stout is from Atlanta, Georgia, and works for an international charity that sends her to fun places like Spain and Singapore. When she's not writing, you can find her drinking an unhealthy amount of chai tea and listening to Girls' Generation, Teen Top, and all her other favorite K-pop tunes.
Giveaway:
Thanks to the fabulous people at St. Martin's Griffin, I am giving away a copy of HELLO, I LOVE YOU to one very lucky winner. All you have to do is fill out the Rafflecopter form below. The giveaway is only open to US participants, so good luck!
a Rafflecopter giveaway
*Goodreads
*Website
*Twitter
*Tumblr
*Pinterest
*Amazon
*B&N
*Books-A-Million
*IndieBound
*iBooks