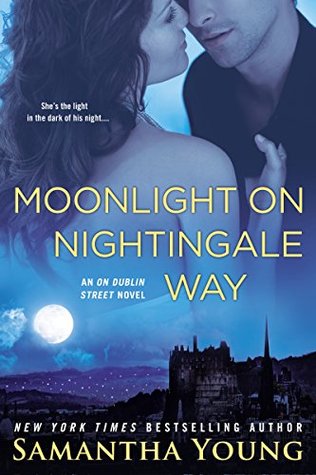 Title:
Moonlight on Nightingale Way (On Dublin Street #6)
Author:
Samantha Young
Published:
June 2nd 2015 by NAL
Source:
Finished copy sent by the publisher in exchange for an honest review
Goodreads
"Logan from Echoes of Scotland Street is back with his own smoldering story, as the New York Times bestselling On Dublin Street series returns…

Logan spent two years paying for the mistakes he made. Now, he's ready to start over. He has a great apartment, a good job, and plenty of women to distract him from his past. And one woman who is driving him to distraction…

Grace escaped her manipulative family by moving to a new city. Her new life, made to suit her own needs, is almost perfect. All she needs to do is find her Mr. Right—or at least figure out a way to ignore her irresistible yet annoying womanizer of a neighbor.

Grace is determined to have nothing to do with Logan until a life-changing surprise slowly begins turning the wild heartbreaker into exactly the kind of strong, stable man she's been searching for. Only just when she begins to give into his charms, her own messy past threatens to derail everything they've worked to build…"
Thoughts:
Samantha Young's novels come with a certain expectation for me. I expect them to be addicting, I expect to swoon, and I also expect to laugh out loud at least twice before the novel ends. With that said, I can finally say that this book met all of my expectations, even if (to be honest) it wasn't my favorite from this series.
It's a bittersweet feeling knowing this is the last novel in the series, and having to say goodbye to everyone I've grown to love these past few years. MOONLIGHT ON NIGHTINGALE WAY starts off with Grace hearing her new neighbor doing...eeerr, having a "really good time", if you know what I mean. Blogger really needs to add some emojis to their template, because this is the perfect time for me to throw in a few winky faces. ANYWAY, after finding a pair of panties in the hallway they share, she decides to both introduce herself to her new neighbor and possibly ask if he could be more considerate. What she wasn't expecting to find was Logan...Hot, gorgeous, sex on a stick Logan who seems less than pleased to meet her.
To say they didn't get along at first is an understatement. Logan thinks Grace is posh, and Grace thinks Logan is a manwhore. Now, if you've read ECHOES OF SCOTLAND STREET, you'll remember Logan as Shannon's brother. You know that he's a good guy, having spent two years of his life in jail for getting back at the man who abused his sister. He comes off as rough around the edges, someone who doesn't give a hoot, but it's only because life hasn't been kind to him.
It isn't until Maya is introduced that Grace and Logan begin spending time together. Grace is immediately attracted and drawn to Logan, and it seems like Logan feels the same way. He's jealous whenever she goes on a date with another guy, and even though he says they're just friends, there's something about the way he acts that says there could be more. Of course this frustrates Grace, but she has to live her life. After all, the fabulous Jocelyn Carmichael (EEK) has recently asked her to edit some of her work. Life is great, am I right?
You guys, this book is filled with frustration, angst, and so many sexy good times. Whenever Grace and Logan get together, it's explosive. It's crazy hot and probably the best first sexual experience the two could possibly have. Now, Logan enjoys having Grace in his life. Part of him doesn't think he deserves her, thus leads to him constantly pushing her away to the point where I just wanted to shake him and yell explicit things. Even though I found Logan to be very sexy, I couldn't help but be annoyed by all of this. He ended up not being my favorite Young boy, but it doesn't mean he wasn't swoon worthy.
I had the opposite feelings when it came to Grace. She's probably one of my favorite Young gals with Jocelyn still holding the number one spot. I enjoyed how she interacted with Maya and every one of the old Young ladies. That's right, you'll get a cameo from each and every one of them. It's fabulous.
As for the ending, some people will think it's cheesy, but I thought it was the perfect way to end this incredible series. It brought back so many feelings, and I couldn't be happier to see some of my favorite fictional characters filled with such pure and absolute joy. All in all, MOONLIGHT ON NIGHTINGALE WAY was a great sendoff, and though I wasn't ready to say goodbye, I'm glad it was done like this.
Rating:

4 Stars