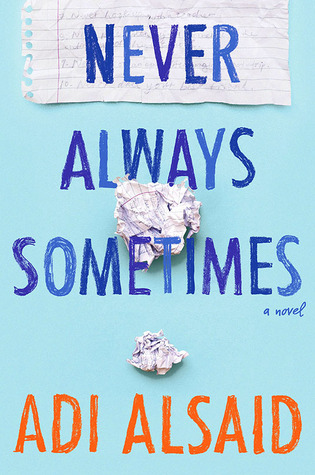 Title:
Never Always Sometimes
Author:
Adi Alsaid
Published:
August 4th 2015 by Harlequin Teen
Source:
Finished copy provided by the publisher in exchange for an honest review
Add it on Goodreads
"Never date your best friend

Always be original

Sometimes rules are meant to be broken

Best friends Dave and Julia were determined to never be cliché high school kids—the ones who sit at the same lunch table every day, dissecting the drama from homeroom and plotting their campaigns for prom king and queen. They even wrote their own Never List of everything they vowed they'd never, ever do in high school.

Some of the rules have been easy to follow, like #5, never die your hair a color of the rainbow, or #7, never hook up with a teacher. But Dave has a secret: he's broken rule #8, never pine silently after someone for the entirety of high school. It's either that or break rule #10, never date your best friend. Dave has loved Julia for as long as he can remember.

Julia is beautiful, wild and impetuous. So when she suggests they do every Never on the list, Dave is happy to play along. He even dyes his hair an unfortunate shade of green. It starts as a joke, but then a funny thing happens: Dave and Julia discover that by skipping the clichés, they've actually been missing out on high school. And maybe even on love."
Thoughts:
This is actually the first book I've read by Adi Alsaid, but it will not be my last. NEVER ALWAYS SOMETIMES is a novel about growing up, figuring things out, and mostly about friendship and what that exactly means. It's a novel that will have you feeling nostalgic and thinking of those past co-ed friendships where it sometimes felt like something more. We all have them, am I right?
First off, let's talk about the duo. The novel starts off at the summer before freshman year and quickly jumps to their senior year. While the novel is told through both Dave and Julia's point of views, it's told in sections rather than alternating. Dave is the yin to Julia's yang. He's the calm, cool, laid-back type of guy whereas Julia is the outgoing, quirky one. Julia actually doesn't know Dave's full name and makes up some pretty great ones for him. It's Dave who initially develops feelings for Julia. He's felt this way for a while, but remember rule number 10? Never date your best friend? Yikes.
Okay, you know and I know that something will eventually develop between them. It's inevitable, even if it's just to see where things go or if there's more. The romance between the two was a bit...I don't know. To be honest, I think I enjoyed them more as friends than something else. Dave is very much the sweet one, and clearly the more mature one of the two. Julia, to me, still had a lot of growing up to do. A lot of her personality and actions, I believe, is based around her distant, adventurous mother. She is raised by her two fathers (LOVE THIS!), and often talks about her mother's tales. With that being said, Julia definitely has this hilarious side to her, and I died laughing over some of her antics. The author definitely knows how to tell a fun story, and Julia is a great example of this.
also, I have to tell you guys that I adored the writing. I know I say adore a lot, but I don't know how else to put it. It's just a lively, interesting, well-written story from start to finish.
Now, I'm sure you're wondering why the 3.5 stars. To be honest, this story is a fairly predictable one. There's nothing wrong with that. I mean I love a good, lighthearted, fun book as much as the next person. The thing is, I just wasn't wowed by it. It's a good book, but there's nothing that particularly stood out to me. Would I reread it? Sure, especially if I've been traumatized by another novel. Is it something I'd reread over and over and over again? Probably not.
Overall, I recommend this novel for YA contemp fans. If you're looking for a funny beach read, this is the book for you. If your favorite character just died in another book and you need some healing, this is the book for you.
Rating:

3.5 Stars