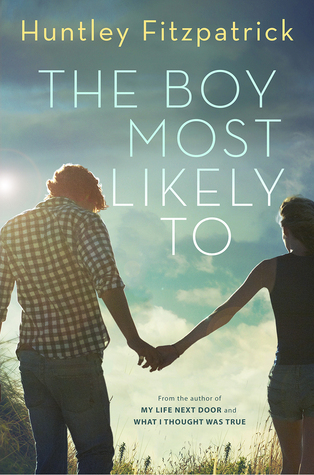 Title:
The Boy Most Likely To (My Life Next Door companion)
Author:
Huntley Fitzpatrick
Expected publication:
August 18th 2015 by Dial Books
Source:
ARC courtesy of the publisher for an honest review
Add it on Goodreads
"A surprising, utterly romantic companion to My Life Next Door—great for fans of Sarah Dessen and Jenny Han

Tim Mason was The Boy Most Likely To find the liquor cabinet blindfolded, need a liver transplant, and drive his car into a house

Alice Garrett was The Girl Most Likely To . . . well, not date her little brother's baggage-burdened best friend, for starters.

For Tim, it wouldn't be smart to fall for Alice. For Alice, nothing could be scarier than falling for Tim. But Tim has never been known for making the smart choice, and Alice is starting to wonder if the "smart" choice is always the right one. When these two crash into each other, they crash hard.

Then the unexpected consequences of Tim's wild days come back to shock him. He finds himself in a situation that isn't all it appears to be, that he never could have predicted . . . but maybe should have.

And Alice is caught in the middle.

Told in Tim's and Alice's distinctive, disarming, entirely compelling voices, this novel is for readers of The Spectacular Now, Nick and Norah's Infinite Playlist, and Paper Towns."
Thoughts:
Whenever I first read MY LIFE NEXT DOOR back in 2012, I just completely fell in love with it. The Garretts are probably one of the best fictional families out there and most certainly one of my favorites. It didn't surprise me that Samantha fell in love with both Jase and his eclectic family. Whenever I heard a book was being written from Tim and Alice's point of view, I pretty much fist pumped the air and shouted YES! Not only did this novel exceed my expectations, it melted, broke, and healed my heart multiple times. Needless to say, I loved this novel!
Of the two points of views, Tim's is probably my favorite. It's funny how distinct his voice is compared to Alice's, and his thoughts are both complex and simple, just like almost every guy I know. What I mean by this is girls tend to elaborate and go into details and stress about the smallest things. Boys? They worry about the bigger issues but don't like to talk about it, and they also enjoy giving simple, one word answers. Yes, I know I'm stereotyping, and I'm completely pulling from my own experience, but I liked that I could relate with this book in that way. Alice and Tim both fit into these categories beautifully, and I loved them for it.
Like MY LIFE NEXT DOOR, there's a twist in the novel I wasn't expecting transforming it from lighthearted romance to a deep coming of age story. While I knew Tim had an unstable family life, I didn't realize the depths of it. I'm glad he had someone like Alice to both admire and swoon over. Speaking of these two, let's talk about their chemistry!
From the very beginning, you knew they had something special brewing between them. While they're romantic relationship is fantastic overall, this book isn't one based around romance. It very much as to do with family and finding yourself. The hint of romance is an added bonus.
Also, and I'm just going to say it, little George is still my absolute favorite character in these books. I just love that adorable, sweet kid!
Though this novel is very much a companion, I personally wouldn't read it without reading the previous novel only because there are a few spoilers that might ruin the first one for you. Yes, it can be read as a standalone, but I wouldn't recommend it if you haven't read the first one. If you're a fan of MY LIFE NEXT DOOR, you'll surely be a fan of THE BOY MOST LIKELY TO. It very much as a John Green feel to it that I think readers will enjoy.
Rating:

4.5 Stars
Giveaway:
Thanks to the fabulous people at Penguin, I am giving away a copy of THE BOY MOST LIKELY TO. This giveaway is only open to US participants and ends at the end of the month! Good luck, and may the odds be ever in your favor.
a Rafflecopter giveaway