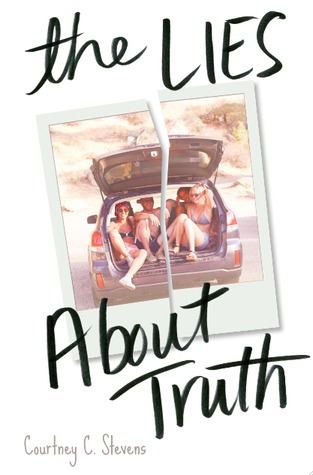 Title:
Lies About The Truth
Author:
Courtney C. Stevens
Published:
November 3rd 2015 by HarperTeen
Goodreads / Amazon / B&N / IndieBound / The Book Depository

"Sadie Kingston, is a girl living in the aftermath. A year after surviving a car accident that killed her friend Trent and left her body and face scarred, she can't move forward. The only person who seems to understand her is Trent's brother, Max.

As Sadie begins to fall for Max, she's unsure if she is truly healed enough to be with him — even if Max is able to look at her scars and not shy away. But when the truth about the accident and subsequent events comes to light, Sadie has to decide if she can embrace the future or if she'll always be trapped in the past. "
Thoughts:
THE LIES ABOUT THE TRUTH completely caught me off-guard in the best possible ways. The emotions, so raw and pure, and the characters...I simply cannot find the right words to describe how truly remarkable this novel really is. I have goosebumps just thinking about it!
From the summary, you can see that this isn't a lighthearted novel. Sadie survived a car accident that took the life of her best friend. Though she survived the accident, she is left with scars on her face and body as well as ones on her soul and heart. It's not until her and Max (Trent's brother) start emailing each other and seeing each other again that she starts to really heal inside.
First off, I really adored Sadie. Though I've never had to deal with something so tragic and heartbreaking, I could experience what she was going to and relate. She has this strength inside of her that I really admired. I enjoyed reading about her journey and the mystery being the accident.
While I liked Max, I don't know if I really loved him. The romance between the two was sweet, and I really enjoyed it. I just didn't find Max swoon-worthy for some reason, and I honestly think it's me (not the book). Maybe I've been reading too many "adult" novels or something. He's more of a best friend type, but I do think he's perfect for Sadie.
Overall, I really enjoyed THE LIES ABOUT THE TRUTH and look forward to the author's next novels. She's definitely on my radar now, and I've got my eye on her. I loved this book so much, I ended up purchasing the ebook for FAKING NORMAL (How could I not?). If you're a fan of SAVING JUNE of FALLING INTO PLACE, you'll easily fall in love with THE LIES ABOUT THE TRUTH.
Rating:

4.5 Stars
About COURTNEY C. STEVENS:
Courtney C. Stevens grew up in Kentucky and lives in Nashville, Tennessee. She is an adjunct professor and a former youth minister. Her other skills include playing hide-and-seek, climbing trees, and being an Olympic torch bearer. She is also the author of Faking Normal, which Kirkus Reviews called "a story that resonates" and Publishers Weekly called a "rich debut," as well as the e-novellaThe Blue-Haired Boy.
Website
|
Twitter
|
Facebook
|
Tumblr
Giveaway:
3 Finished Copies of THE LIES ABOUT TRUTH
a Rafflecopter giveaway
Be sure to check out the rest of the tour for exclusive interviews and more reviews!
Week 1:
Nov. 9:
Such A Novel Idea - Review
Nov. 10:
Jenuine Cupcakes - Q&A
Nov. 11: Addicted 2 Novels - Review (You're here! Yay! Come back soon!)
Nov. 12:
Kimberly Faye Reads - Q&A
Nov. 13:
Next Page Please - Review
Week 2:
Nov. 16:
Katie's Blok Blog - Q&A
Nov. 17:
A Perfection Called Books - Review
Nov. 18:
Chapter By Chapter - Q&A
Nov. 19:
The Reading Date - Review
Nov. 20:
Andi's ABCs - Q&A