Welcome, welcome to the next stop in the Come Back To Me Blog Tour. I'm your host Lena, and I will be walking you through my journey with this fantastic novel. First up, a little background information.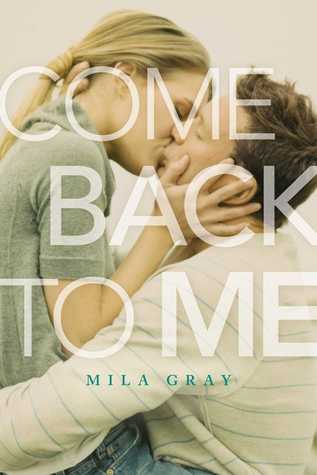 Come Back to Me by Mila Gray
(Come Back to Me, #1)
Published by:
Simon Pulse
Publication date:
December 8th 2015
Genres:
New Adult, Romance
Source:
eARC courtesy of the author in exchange for an honest review
Goodreads

"In this heart-wrenching tale of love and loss, a young Marine and his best friend's sister plunge into a forbidden love affair while he's home on leave.

When a Marine Chaplain knocks on her door, Jessa's heart breaks—someone she loves is dead. Killed in action, but is it Riley or Kit? Her brother or her boyfriend…

Three months earlier, Marine Kit Ryan finds himself back home on leave and dangerously drawn to his best friend Riley's sister, Jessa—the one girl he can't have. Exhausted from fighting his feelings, Kit finally gives in, and Jessa isn't strong enough to resist diving headfirst into a passionate relationship.

But what was just supposed to be a summer romance develops into something far greater than either of them expected. Jessa's finally found the man of her dreams and Kit's finally discovered there's someone he'd sacrifice everything for.

When it's time for Kit to redeploy, neither one is ready to say goodbye. Jessa vows to wait for him and Kit promises to come home to her. No matter what.

But as Jessa stands waiting for the Marine Chaplain to break her heart, she can't help but feel that Kit has broken his promise…

Riley or Kit? Kit or Riley? Her brother or her boyfriend? Who's coming home to her?"
Thoughts:
You guys, I cannot tell you enough how much I absolutely adored this novel. It has everything I look for in a New Adult novel- raw emotions, romance, realism, and yes, the undeniable heartache that comes with any kind of Marine-PTSD novel. I swooned, I cried, I got angry, I cried some more. All in all, it was an incredibly emotional journey, one I'd highly recommend taking.
Jessa and Kit have known each other for practically their whole lives. Kit is actually Riley (Jessa's older brother)'s best friend, and the three spent a great deal of time together. It's only natural that Kit started developing feelings for Jessa, but how is that suppose to work out? She's his best friend's little sister, and on top of that, their father pretty much hates him. Even alienates him at times. Yikes.
Kit and Riley eventually decide to join the Marines. What Jessa wasn't expecting is how much she ends up missing Kit. It's only until he's home on leave that things start to become something more. The only catch is, like with everyone that serves our country, his time home is limited. It has an expiration date, and what are the two suppose to do once he leaves again?
I absolutely loved watching Jessa and Kit's relationship grow into something I can only describe as beautiful yet real. The novel is told through both of their points of views, so you get to see their affections and feelings at every angle. Really, when it comes to NA books, I truly think this is usually the best path to take. Of the two, I have to admit I probably liked Jessa's POV more. She's just the type of girl you'd want to know, the kind that would have your back. She's also the kind of girl who has a totally swoon-worthy brother, one that's both protective yet still has a lightness to him. Can you tell that I adored these three characters? Probably because I did. I fell in love with each of them and kept praying that please, please let all of this end well.
What I found interesting in this novel is how different the fathers were. I really liked Kit's father. He's the type of guy anyone would be honored to call dad. Then you have Jessa and Riley's dad who, let's just say has a lot of issues and doesn't deal with them well. Towards the end, I found myself understanding why he is the way he is and why he treats people, especially his own children, the way he does, but I honestly didn't think it justified his actions.
Overall, I recommend this novel to fans of IN HONOR and SOMETHING LIKE NORMAL. I've had my eye on this book for a while and am glad it was finally released in the states. Definitely worth the wait!
Rating:

5 Stars
About The Author:

Mila Gray is the pen name for Sarah Alderson, author of Hunting Lila, Losing Lila, The Sound, Fated and Out of Control. Originally from London she has lived in Bali for the last four years with her husband and daughter. As well as writing young adult fiction under the name Sarah Alderson and adult fiction under the name Mila Gray, she also writes screenplays. You can find out more at www.milagray.com and on facebook: www.facebook.com/sarahjalderson
Author links:
https://www.facebook.com/MilaGrayBooks
https://twitter.com/MilaGrayBooks
https://www.goodreads.com/author/show/7910288.Mila_Gray
Giveaway:
3 winners for an exclusive copy of the UK edition of the second Mila Gray book, THIS IS ONE MOMENT. This giveaway is INTERNATIONAL so enter! You've got nothing to lose (but loads of chances to win).
Be sure to follow the rest of the
tour
for more chances to win!
a Rafflecopter giveaway