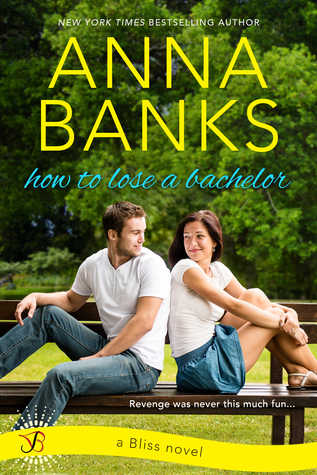 Title:
How To Lose A Bachelor
Author:
Anna Banks
Published:
November 9th 2015 by Entangled Publishing, LLC (Bliss)
Source:
eARC courtesy of the publisher in exchange for an honest review
Goodreads
/
Amazon
"When Rochelle Ransom auditioned for the dating show Luring Love, she had big plans for winning the prize money to help her favorite charity–and if she won the hot bachelor's heart, even better. But at the last minute she finds out the hot bachelor is her ex-boyfriend, Grant Drake. Desperate to keep her distance from him, she'll do anything–and everything–to get voted off.

Years ago, Rochelle broke Grant's heart, and he's out for revenge. There's no way he'll vote her off.

After all, vengeance is a dish best served red-hot...and on live television.

When her hilarious antics to get kicked off the show escalate, Grant's reminded why he fell in love with her the first time. Now he isn't sure which might be more fun... Seeing how far Rochelle is willing to go to get away or how far he will to keep her forever."
Thoughts:
If you're looking for a boring, blah read, this is definitely NOT the book for you. Now, if you're looking for a fun, clever, and addicting novel, HOW TO LOSE A BACHELOR is the one. I can't say it took me by surprise, since I adore the author and her previous books. What I can say is, if you follow Anna on Twitter then you know how funny and witty she is, and HOW TO LOSE A BACHELOR further proves this.
After reading the summary, this novel sounded like a funny version of UnReal (GREAT show!). Guess what? That's exactly what it is! Rochelle (Don't call her Chelle) is a prestigious lawyer who decided to be a contestant on Luring Love (which is basically The Bachelor) in the hopes of winning the prize money for her charity, Helping Hands. What she wasn't expect was her ex, the guy who completely shattered her heart into a million pieces, to be the bachelor on the show. Though she wants to just quit and call it a loss, she can't help but think of all the good that prize money will do.
Then you have Grant. He is equally as crushed to see Rochelle there. After all, it wasn't just her heart that was broken all those years ago. Also, he can't help but question why she's on this show to begin with, Is there a chance for them to get back together? I guess we shall see!
The novel is told from both of their point of views. I swear, I'm not sure which is more comical: Rochelle living these humiliating moments or Grant recapping them and vice versa. Their chemistry is off the charts, but Rochelle is still so mad at Grant. They both playout these little revenge situations that end up blowing up in both of their faces. I almost cried from laughing so hard and picturing all of this in my head! It's clear they're meant to be together, but you still wonder if they're both willing to let go of the past in order to start a new future together.
There's also some interesting characters outside the main two. You have Maya, one of the other contestants on the show, who is just so easy to love. Had Rochelle and Grant not have been a match made for each other, I would've rooted for Maya. The other girls, with the exception of Ellie, are just off the charts, and not in a good way. They're so outrageous, and you can't help but love to hate them. Then you have Chris, the host and Grant's kind of friend friend from college. What are his real motives? Does he care about these two or is he mainly in it for the ratings? If you watched UnReal, Chris is kind of like a Rachel and Ricki (the producer) is very much like Julia. There's fun, there's adventure, there's TONS of drama, and of course, there's romance.
I know I've gone on and on about this novel, but it's only because I truly loved it and had such a blast reading it. More? Please?
Rating:

5 Stars