Welcome, welcome, to the next stop in the STONE FIELD Blog Tour. Today, I have Christy Lenzi here to tell us what makes a great romance story. Ready? Let's go!
What do you believe makes a great romance story? Is it all about chemistry or is there more to it?
I love the explosive chemistry of two characters combining and reacting—the sparks of energy, the heat of skin, the heart pumping like mad. I freely admit that in my favorite stories, the characters often fall in love immediately or suddenly. And why not? Biological anthropologist Dr. Helen Fisher says, "You can be instantly scared. You can be instantly happy. So why can't you be instantly romantically in love?"
It has been said that in real love, you want the other person's good. In romantic love, you want the other person. True, that. But ah, the wanting. Desire is what gets us going and ignites in us the hope of enduring love in the first place.
For me, the best romances create this desire, this love, then threaten it. Isn't that what any good storyteller does? She makes us care about something, raises the stakes, then tries to steal it back from us. When obstacles arise (whether from the couple's own issues or from outside forces) or separation tears the lovers apart, that's when longing intensifies. Longing is an essential component to a great love story, no? It's why I kept hearing Cecilia whispering to Robbie, "Come back to me" after I finished Atonement and Ada's echoing plea to Inman after reading Cold Mountain. It is why, years after closing the covers of Jane Eyre, I still hear Rochester's agonized voice crying out in the moonlit night, "Jane! Jane! Jane!"
A good romance story puts my heart through the wringer and almost breaks it. And when it's over, I feel slightly bruised and rather tender. But I also feel more awake to the world and more alive.
About The Author: Christy lives with her family in California's Central Valley, not far from the mountains, the big trees, and the Pacific Ocean. When she's not working, writing, or reading, she is fond of stuffing messages into bottles, making art, and zooming around on her motor scooter, Roxanne. If you find one of her bottle messages, write her back!
Thank you Christy for taking the time to drop by! Be sure to catch the rest of the STONE FIELD tour!
3/19/2016:
www.bookrookreviews.com
(Retelling)
3/21/2016:
www.fictionfare.com
(Romance)
3/22/2016:
http://theirishbanana.blogspot.com
(Historical)
3/23/2016:
http://katiesbookblog.com/
(Retelling)
3/25/2016:
http://www.addicted2novels.com
(Romance)
3/27/2016:
http://aperfectioncalledbooks.blogspot.com/
(Historical)
3/28/2016:
http://www.fiktshun.com
(Romance)
3/29/2016:
http://www.intothehallofbooks.com/
(Historical)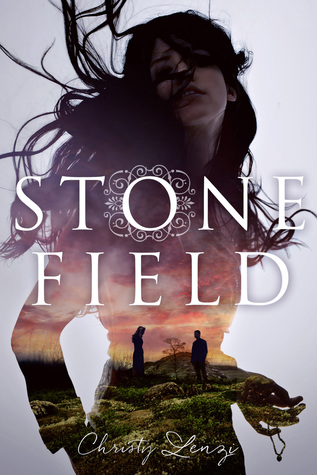 "In a small town on the brink of the Civil War, Catrina finds a man making strange patterns in her family's sorghum crop. He's mad with fever, naked, and strikingly beautiful. He has no memory of who he is or what he's done before Catrina found him in Stone Field. But that doesn't bother Catrina because she doesn't like thinking about the things she's done before either.

Catrina and Stonefield fall passionately, dangerously, in love. All they want is to live with each other, in harmony with the land and away from Cat's protective brother, the new fanatical preacher, and the neighbors who are scandalized by their relationship. But Stonefield can't escape the truth about who he is, and the conflict tearing apart the country demands that everyone take a side before the bloodbath reaches their doorstep.

Inspired by Emily Bronte's Wuthering Heights."
Goodreads / Amazon / Barnes and Noble / IndieBound / Book Depository

​​