Hello all! Today, Amber Smith, the author of THE WAY I USED TO BE, will be discussing her novel and why she decided to split it into four parts. This book, I cannot tell you the amount of feels this book made me feel. For those who haven't heard of this powerful, fantastic novel, here's some background information.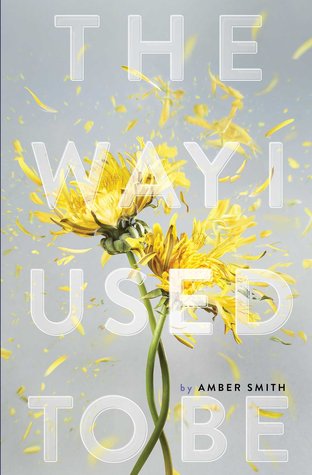 "Eden was always good at being good. Starting high school didn't change who she was. But the night her brother's best friend rapes her, Eden's world capsizes.

What was once simple, is now complex. What Eden once loved—who she once loved—she now hates. What she thought she knew to be true, is now lies. Nothing makes sense anymore, and she knows she's supposed to tell someone what happened but she can't. So she buries it instead. And she buries the way she used to be.

Told in four parts—freshman, sophomore, junior, and senior year."
Goodreads | Amazon | B&N | Indiebound | iBooks | The Book Depository
Now, here's Amber!
*What drew me to the novel (other than the cover and summary) is the fact that it's told in four parts, each grade we experience in high school.  Why four parts?
I wanted to use the element of time to show just how deep and lasting the wounds of violence
can be. By following the main character, Eden across all four years of high school, we can see
the person she was before she was raped and understand how and why she evolves into the
person she becomes by the end of the book. In reality, recovery from trauma and violation is a
long and complicated journey, though I feel like we often see more condensed timeframes
represented in stories that deal with this issue. I think many people—those who have
experienced rape and abuse, as well as those who haven't—often have an unrealistic
understanding, even expectations, about what it means to be a survivor. Namely, that trauma is
something that one can "get over" rather than something that, more often than not, takes a lot
of time and work to heal. By dividing the book into four years, I wanted to show what this
process can sometimes look like when, as we see in Eden's case, the person does not have (or
know how to ask for) the support they need.
The other main reason I structured the story in this way was to show how, with the passage of
time, silence itself can become a force of violence, one that often begins with a slow burn, but
can quietly build up to disastrous proportions, not only for Eden herself, but for everyone
connected to her. For me, it's not so much the assault that keeps Eden in a state of trauma, it's
her silence. By telling the story across four years I wanted to show how difficult it can be to
stand up to abuse, why speaking out is not always as simple or easy as some might assume. But,
most importantly, what I hoped to reveal along the way is the reason behind her silence: She
doesn't tell anyone what happened because she doesn't feel like she'll be heard. Each year that
passes, we see Eden trying to gain power over her life, as she struggles to find the strength to
become a survivor, in her own way and on her own terms. I'm also drawn to the idea of four
parts because, to me, four parts, just like four seasons, make up a complete cycle. And in those
four years, we see Eden come full circle, finding her way back to her truth and back to finding
her voice.
ABOUT AMBER SMITH:
Amber Smith grew up in Buffalo, NY and now lives in Charlotte, NC with her two dogs. After graduating from art school with a BFA in Painting, she earned her MA in Art History. When she's not writing, she is working as a curator and art consultant. She has also written on the topics of art history and modern and contemporary art. The Way I Used to Be is her first novel.
Website | Twitter | Facebook | Instagram
Giveaway:
3 Finished Copies of THE WAY I USED TO BE (US Only). You guys, the photo for this book does not do it justice. The cover is gorgeous and beautifully done. You want this book in your life!
a Rafflecopter giveaway
Be sure to check out the rest of the tour for more chances to win!
Week 1:
3/21:
Once Upon A Twilight - Review
3/22: Addicted 2 Novels - Guest Post
3/23:
Pretty Deadly Reviews - Review
3/24:
The Irish Banana Review - Q&A
3/25:
A Leisure Moment - Review
Week 2:
3/28:
The Hardcover Lover - Top 10
3/29:
I Turn the Pages - Review
3/30:
Such A Novel Idea - Q&A
3/31:
Take Me Away to a Great Read - Review
4/1:
Arctic Books - Playlist