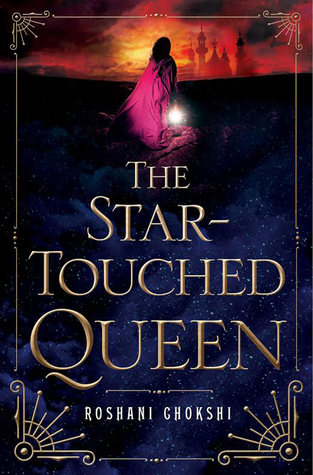 Welcome to the next stop in The Star-Touched Queen Blog tour. Today I'll be sharing with you guys an excerpt from the book. For those who haven't heard of THE STAR-TOUCHED QUEEN yet...
"Fate and fortune. Power and passion. What does it take to be the queen of a kingdom when you're only seventeen?

Maya is cursed. With a horoscope that promises a marriage of Death and Destruction, she has earned only the scorn and fear of her father's kingdom. Content to follow more scholarly pursuits, her whole world is torn apart when her father, the Raja, arranges a wedding of political convenience to quell outside rebellions. Soon Maya becomes the queen of Akaran and wife of Amar. Neither roles are what she expected: As Akaran's queen, she finds her voice and power. As Amar's wife, she finds something else entirely: Compassion. Protection. Desire...

But Akaran has its own secrets -- thousands of locked doors, gardens of glass, and a tree that bears memories instead of fruit. Soon, Maya suspects her life is in danger. Yet who, besides her husband, can she trust? With the fate of the human and Otherworldly realms hanging in the balance, Maya must unravel an ancient mystery that spans reincarnated lives to save those she loves the most. . .including herself.

A lush and vivid story that is steeped in Indian folklore and mythology. The Star-Touched Queen is a novel that no reader will soon forget."
Excerpt:
"I don't care for the ways of men and demons," I hissed. "Your
lessons are lost on me."
What ever darkness my mind had imagined melted. Parrots
singing. Fountains gurgling. The distant voice of a courtier dron-
ing about wars. Sound pushed up between those lost seconds,
blossoming into fi erce murmurs, hushed tones. What had I
imagined? I searched for the tutor's shadow splayed against the
wall. I waited to see something slinking along the ground, darkness
stretched long and thin over tomes and cracked tiles, but there
was nothing.
"You," he hissed in an exhale that ended in a whimper. He
backed into a corner. "It's you. I thought . . ." He gulped down
the rest of his words. He looked lost.
I blinked at him, shaking off the fi nal remnants of that drows-
iness. I felt groggy, but not with sleep. A moment ago, I thought I
had seen horns limned in shadow. I thought something had coursed
through me in defense— a low note of music, the bass of a thun-
derclap, a pleat of light glinting through a bruised storm cloud. But
that couldn't be right. The person before me was just . . . a person.
And if I had heard him say something else, saw him morph into
something else, it was all distant and the fi ngers of my memory
could do nothing but rummage through images, hold them to the
light and won der if I hadn't slipped into a waking nightmare.
The tutor trembled. Gone was the blocky fi gure choking out
the light and lecturing me on silence. Or had he said something
else in those lost moments? Something about weakness and de-mons. I couldn't remember. I clutched a table, my knuckles white.
"I must go," he said, his face pale, like blood had drained from
him. "I didn't know. Truly. I didn't. I thought you were someone
else."
I stared at him. What did he mean? How could he not know
who I was? Someone must have told him that I was the princess
he would be tutoring this after noon. But I was wasting time. He
was just another tutor scared by a reputation pronounced by far-
away lights in the sky. Curse the stars.
ABOUT THE AUTHOR: ROSHANI CHOKSHI comes from a small town in Georgia where she collected a Southern
accent, but does not use it unless under duress. She grew up in a blue house with a perpetually
napping bear-dog. At Emory University, she dabbled with journalism, attended some classes in
pajamas, forgot to buy winter boots and majored in 14th century British literature. She spent a
year after graduation working and traveling and writing. After that, she started law school at
the University of Georgia where she's learning a new kind of storytelling. More information on
the author can be found at www.roshanichokshi.com.
Links: Amazon / Barnes and Noble / Goodreads / IndieBound