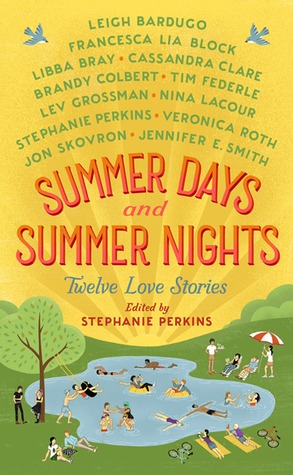 Welcome to the next stop in the Summer Days and Summer Nights Blog Tour. If you guys have yet to check out this fabulous anthology, please do so. I read most of the stories while laying on Kamala Beach in Phuket. Never had a more perfect summer moment (It was summer to me!).
Today, the lovely editor herself, Stephanie Perkins, is here to talk about all things summer. Are you ready for this jelly?
What is your ideal summer day? Summer night?
My ideal summer day and night are the same—sitting inside my house with my husband and my cat. I love my house. If it were possible, I would never leave it.
Plus, mosquitos really like me. And I sunburn easily.
What are the ingredients to your perfect summer, and have you had one?
Fireflies. Honeysuckle. Fresh fruit and vegetables. I grew up in Arizona's Sonoran desert, so there wasn't a lot of this in my childhood. But as an adult, I've been living in Asheville, North Carolina, so I have this summer every year. I'm very lucky. It's one of the many awesome things about being an adult—choosing where you live.
What are your thoughts on summer romances?
Naturally juicy! When you're a teenager, they're often fleeting and filled with drama. So much can happen over a single summer. You can reinvent yourself. There's magic in that.
What are your favorite summer love stories?
Several of the authors in my two anthologies have written swoony summer romances. A few that immediately spring to mind: I'm pretty sure all of Jennifer E. Smith's books take place over summer (The Geography of You and Me is a favorite), as well as Nina LaCour's The Disenchantments and Everything Leads to You, and Jenny Han's Summer series, starting with The Summer I Turned Pretty.
Which do you prefer--poolside or beachside summer reading?
Beachside! Ocean waves are the perfect white noise to a delicious book.
Do you have any go-to summer books you like to re-read summer after summer?
I'll recommend one of my mother's favorite summer reads: Sarah Dessen's Keeping the Moon. It might be my favorite Dessen novel, too.
If you had to pair Summer Days and Summer Nights with a summer-y drink, what would it be?
Watermelon juice. It's so simple—it's just watermelon that's been put into a blender, but it's heaven.
About the Editor:

Stephanie Perkins has always worked with books—first as a bookseller, then as a librarian, and now as a novelist. She's
the author of the international bestsellers Anna and the French Kiss and Lola and the Boy Next Door, as well as Isla and
the Happily Ever After. My True Love Gave to Me: Twelve Holiday Stories is her first anthology. Stephanie and her
husband live in the mountains of North Carolina.
Goodreads / Amazon / Barnes and Noble / IndieBound
About Summer Days and Summer Nights:
Internationally bestselling author Stephanie Perkins brought together some of her closest friends and fellow bestselling young adult authors for the holiday anthology My True Love Gave to Me that a starred Publisher's Weekly called "a rare holiday treat" and Romantic Times claimed "this is what all anthologies should aspire to be". Now, she's doing it again with SUMMER DAY AND SUMMER NIGHTS: Twelve Love Stories (St. Martin's Griffin / On Sale: May 17, 2016), another anthology filled with twelve new stories from a superstar lineup of young adult authors. Already receiving rave reviews, this anthology is the perfect beach companion for those long, hazy summer days.
Featuring twelve brand new short stories from:
 Stephanie Perkins (Anna and the French Kiss, My True Love Gave To Me)
 Leigh Bardugo (Six of Crows, The Grisha Trilogy)
 Francesca Lia Block (Love in the Time of Global Warming)
 Veronica Roth (The Divergent Trilogy)
 Lev Grossman (The Magicians Trilogy)
 Cassandra Clare (The Mortal Instruments Series)
 Jennifer E. Smith (The Statistical Probability of Falling in Love, The Geography of You and Me)
 Libba Bray (A Great and Terrible Beauty)
 Tim Federle (The Great American Whatever)
 Nina LaCour (Everything Leads to You, You Know Me Well)
 Jon Skovron (Misfits, Man Made Boy)
 Brandy Colbert (Pointe)