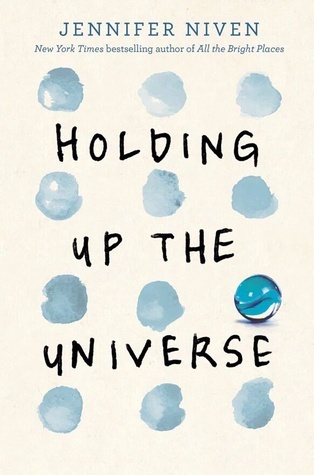 Title:
Holding Up The Universe
Author:
Jennifer Niven
Expected publication:
October 4th 2016 by Knopf Books for Young Readers
Source:
ARC courtesy of the publisher in exchange for an honest review
Goodreads / Amazon / Barnes and Noble / IndieBound / Book Depository

Review:
This book! This book is so powerful and has so much soul that it completely touched me in so many different ways. From the writing to the characters to the overall story, I was completely moved and, needless to say, devoured this novel in one sitting. What do you expect when it's written by Jennifer Niven?
Jack and Libby are such wonderfully written characters, flawed in every way you and I are, yet still striving to be better. Yes, there's definitely bullying in this book, and yes, you will feel hurt, but there are moments where you'll be swooning and smiling so hard that you think your lips are going to fall off. It makes up for all the times you're cringing and wanting to simply throw the book across the room just to be done with it. Let's be honest, you don't know true happiness unless you've encountered the deepest of sorrows.
I could go deeper into the story, but I feel like it would ruin it for everyone. Just know that this book offers so many lessons including finding peace in who you are and not who everyone thinks you should be. I feel like I grew as a person after reading HOLDING UP THE UNIVERSE and others will as well. For anyone who feels offended by the summary, know that the author drew in both her's and her friend's personal experiences, and it is in no way meant to be offensive. Personally, I feel it's meant to help others and let them know they're not alone.
Rating:

4.5 Stars