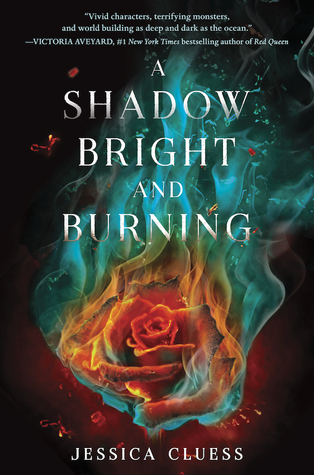 Title:
A Shadow Bright and Burning (Kingdom on Fire #1)
Author:
Jessica Cluess
Published: September 20th 2016 by Random House BFYR
Source:
ARC provided by the publisher in exchange for an honest review
Goodreads / Amazon / Barnes and Noble / IndieBound / Book Depository
"I am Henrietta Howel. The first female sorcerer. The prophesied one. Or am I?

Henrietta Howel can burst into flames. When she is brought to London to train with Her Majesty's sorcerers, she meets her fellow sorcerer trainees, young men eager to test her powers and her heart. One will challenge her. One will fight for her. One will betray her. As Henrietta discovers the secrets hiding behind the glamour of sorcerer life, she begins to doubt that she's the true prophesied one. With battle looming, how much will she risk to save the city--and the one she loves?"
Review:
You guys, I haven't read a solid fantasy novel in a really long time. When I saw A SHADOW BRIGHT AND BURNING, I thought hey, this sounds good and different. This book basically has everything I love about a fantastic fantasy novel and reminded me that I truly do need to read more of them. I could not put it down. I loved the characters, the magic, the plot, and the story line. Honestly, I loved it all!
Like all fantasy novels, if the world building isn't done well, the book will inevitably fall a bit short. Have no fear. With ASBAB, it felt like I stepped into this alternate Victorian London filled with monsters, magic, and mayhem. I could visualize everything so clearly, and even though I've never been to London before, I this book made me feel like I had. It definitely makes me want to travel more, sans monsters and whatnot.
Now, let's talk about Henrietta, shall we? I truly found her to be an outstanding main character. Everyone who reads this novel will easily find pieces of themselves inside her, and even though she's not perfect (Because who is?), it doesn't takeaway from the fact that she is genuinely a badass character. Speaking of fabulous characters...
Rook. Hello, swoon. We meet again. I immediately fell for Rook and fell for him hard. How can you not? He is just incredibly sweet and loyal to a fault. He would do anything for Henrietta, and how can you not fall for someone like that? Though the romance only plays a small role in the novel, a pinch if you will, I really did love those few swoonworthy moments that had me smiling from ear to ear.
All in all, I highly recommend A SHADOW BRIGHT AND BURNING to any YA fans there who want to go on an epic journey. The intrigue alone will keep you up until the very last, heart-stopping page. If you're a fan of THE BURNING SKY and DAUGHTER OF SMOKE AND BONE, this is the book for you!
Rating:

5 Stars