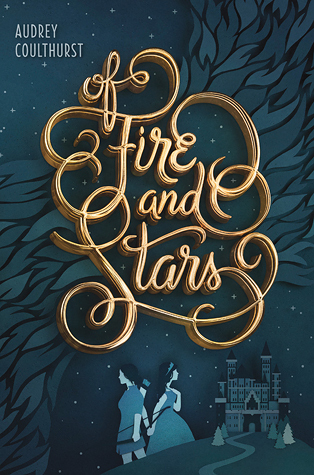 Title:
Of Fire and Stars
Author:
Audrey Coulthurst
Expected publication:
November 22nd 2016 by Balzer + Bray
Source:
eArc via Netgalley courtesy of the publisher in exchange for an honest review
"Betrothed since childhood to the prince of Mynaria, Princess Dennaleia has always known what her future holds. Her marriage will seal the alliance between Mynaria and her homeland, protecting her people from other hostile lands. But Denna has a secret. She possesses an Affinity for fire—a dangerous gift for the future queen of a kingdom where magic is forbidden.

Now, Denna must learn the ways of her new home while trying to hide her growing magic. To make matters worse, she must learn to ride Mynaria's formidable warhorses before her coronation—and her teacher is the person who intimidates her most, the prickly and unconventional Princess Amaranthine (called Mare), sister of her betrothed.

When a shocking assassination leaves the kingdom reeling, Mare and Denna reluctantly join forces to search for the culprit. As the two work together, each discovers there's more to the other than she thought. Mare is surprised by Denna's intelligence and bravery, while Denna is drawn to Mare's independent streak. Soon their friendship is threatening to blossom into something more.

But with dangerous conflict brewing that makes the alliance more important than ever, acting on their feelings could be deadly. Forced to choose between their duty and their hearts, Mare and Denna must find a way to save their kingdoms—and each other. "

Thoughts:
A standalone fantasy novel? Really? Okay, I'm in. The cover brought my attention to the novel, the synopsis got me invested, and the overall promise of something amazing is why I decided to pick this one up. While it's a cute story and I liked it, I can't say full heartedly that I loved it.
What I loved about the novel: Denna and Mare. I absolutely adored these two. If you're a fan of strong heroines with a lot to offer, this is the book for you. They're very much opposites in a sense, but they also fit well together. Denna is training to be queen of Mynarian, and as most leaders or anyone how has ever tried to work in a group project knows, there will always be people who clash, argue, or simply don't appreciate your opinion. Enter Mare. Mare is Denna's fiancé's sister and her riding instructor. They just click, and I loved reading their love story unfold. It was super cute and definitely put a smile on my face. That's not to say it doesn't come with its own set of complications (like every relationship on the planet), but the times where things were great is what got me through this book
Things I didn't love about the novel: Denna and Mare's relationship was pretty much the only pro for me. The rest of the novel just felt rather bland and very slow-moving. I guess I just expected more. I wanted more action, world building, character building, something, anything!
I felt like the secondary characters were just there to be there, and was it just me or did the horses play more of a complex role than anyone other than the two main gals?
Pacing in fantasy novels usually takes a backseat in favor of world and character building. In this case, the story just goes for it without much of either, and I found myself struggling to get through. To be honest, it probably took me a lot longer than it should've to finish this novel, but I did blow through the scenes that involved Denna and Mare (the pro!).
All in all, while OF FIRE AND STARS had a lot of promise, it just fell a bit too flat for my taste. Honestly, I think I'm in the minority in this case, because I've seen a lot of people online who love, rave, and cherish this novel. This is just my opinion, so don't take my word for it. While it's not the book for me, maybe it's the book for you!
Rating:

2 Stars

LINKS: Amazon | B&N



ABOUT AUDREY COULHURST:
Audrey Coulthurst writes YA books that tend to involve magic, horses, and kissing the wrong people. Her debut novel, Of Fire and Stars, will be published on November 22, 2016 by Balzer+Bray/HarperCollins. When she's not dreaming up new stories, she can usually be found painting, singing, or on the back of a horse.

Audrey has a Master's in Writing from Portland State University, is a member of SCBWI, and studied with Malinda Lo as a 2013 Lambda Literary Foundation Fellow. She lives in Santa Monica, California.

LINKS: Website | Twitter | Facebook | Instagram


Giveaway:
3 Finished Copies of OF FIRE AND STARS (US Only)
a Rafflecopter giveaway
Be sure to check out the rest of the tour!
Tour Schedule:
Week 1:
11/14:
What Sarah Read - Review
11/15:
A Backwards Story - Mood Board
11/16: Addicted 2 Novels - Review (Welcome, Y'all!)
11/17:
Caught Read Handed - Guest Post
11/18:
Lisa Loves Literature - Review
Week 2:
11/21:
The Irish Banana Review - Fast 5
11/22:
IN WONDERLAND - Review
11/23:
No BS Book Reviews - Q&A
11/24:
Don't Fold the Page - Review
11/25:
Arctic Books - Top 5