Welcome to the next stop in the This Is Our Story Blog Tour! Today, I'll be reviewing this novel as well as posting a giveaway. Enough small talk. Let's have at it, shall we?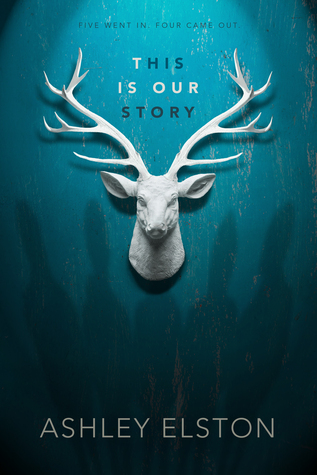 Title:
This Is Our Story
Author:
Ashley Elston
Published:
November 15th 2016 by Disney-Hyperion
Source:
eGalley courtesy of the publisher in exchange for an honest review
"No one knows what happened that morning at River Point. Five boys went hunting. Four came back. The boys won't say who fired the shot that killed their friend; the evidence shows it could have been any one of them.

Kate Marino's senior year internship at the District Attorney's Office isn't exactly glamorous—more like an excuse to leave school early that looks good on college applications. Then the DA hands her boss, Mr. Stone, the biggest case her small town of Belle Terre has ever seen. The River Point Boys are all anyone can talk about. Despite their damning toxicology reports the morning of the accident, the DA wants the boys' case swept under the rug. He owes his political office to their powerful families.

Kate won't let that happen. Digging up secrets without revealing her own is a dangerous line to walk; Kate has her own reasons for seeking justice for Grant. As she and Stone investigate—the ageing prosecutor relying on Kate to see and hear what he cannot—she realizes that nothing about the case—or the boys—is what it seems. Grant wasn't who she thought he was, and neither is Stone's prime suspect. As Kate gets dangerously close to the truth, it becomes clear that the early morning accident might not have been an accident at all—and if Kate doesn't uncover the true killer, more than one life could be on the line…including her own."

Review:
Is it cliche to call this book addicting considering my blog's name is Addicted 2 Novels? Well, I don't know how better way to describe it other than that. The mystery, the romance, the twist and the turns, THIS IS OUR STORY will offer you plenty of reasons to stay up late until you reach the very last page.
What originally drew me to this novel, as superficial as it sounds, was the cover. It doesn't give much of anything anyway yet was interesting enough for me to pick it up and read the synopsis. Once I did, I knew I had to get my hands on it.
The novel is told through our main character Kate's POV and sometimes switches to the murderer's POV. Kate is one of those likable characters you root for from the very beginning. Her mom is works for the local DA, which actually lands her an internship with them. Naturally, once the murder case lands on the DA's desk, Kate is instantly drawn to the mystery. She wants to know who killed Grant and find justice. I don't want to go into further details without giving too much away, but I do want to point out that Kate would definitely give the girls (especially Spencer) from Pretty Little Liars a run for their money.
Oddly enough, even though THIS IS OUR STORY is more of a mystery-thriller novel, there is a bit of romance in it. Swoony boys are definitely a plus, but again, I don't want to name names without giving too much away. Just know that if this is something you have to have in all of your novels (*raises hand*), it's there.
All in all, if you're looking for a book that will keep you up in the wee hours of the morning, THIS IS OUR STORY is the book for you. I loved the setting, the complexity of all of the characters, and the overall flow of the story. Piece by piece, my curiosity grew, and though the ending didn't take me completely by surprised, I loved going on the journey to get there.
Really, there's something for everyone in this novel.
Rating:

5 Stars

LINKS: Amazon | B&N




ABOUT ASHLEY ELSTON:
Ashley Elston lives is North Louisiana with her husband and three sons. She worked as a wedding and portrait photographer for ten years until she decided to pursue writing full time. Ashley is also a certified landscape horticulturist and loves digging in the dirt. Her debut novel, THE RULES FOR DISAPPEARING, was published by Disney Hyperion in 2013 and the sequel, THE RULES FOR BREAKING, in 2014. Her latest novel, THIS IS OUR STORY, will be published on November 15, 2016.

LINKS: Website | Twitter | Facebook

Giveaway:
3 Finished Copies of THIS IS OUR STORY (US Only)
a Rafflecopter giveaway
Be sure to check out the rest of the tour!
11/7:
Bookiemoji - Review
11/8:
The Book Addict's Guide - Book Scents
11/9:
Fiction Fare - Review
11/10:
Adventures of a Book Junkie - Q&A
11/11:
Caught Read Handed - Review
11/14:
The Irish Banana Review - Fast 5
11/15: Addicted 2 Novels - Review (You're here!)
11/16:
In Wonderland - Guest Post
11/17:
Ex Libris - Review
11/18:
The Fake Steph - Top 10