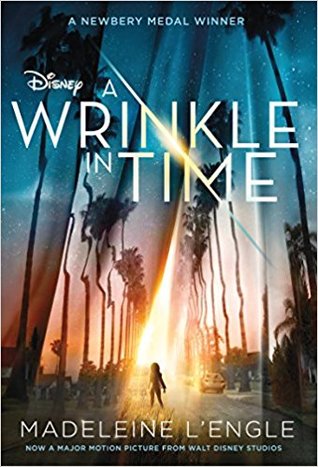 Hey, all! Today I'll be sharing with you guys some of my favorite quotes from
A WRINKLE IN TIME
. For the past week, my little assistant (my Mrs. Whatsit if you will) and I have been reading a chapter a night (sometimes more, sometimes less- all depending on her attention span). This is one of my all time favorite novels, and it feels like a blast from the past. I love that we're able to have these moments together and showing her how books can take her to a whole other universe. Granted, sometimes we have to switch over to one of her Touchy-Feely books, but she mostly listens and takes it all in.
As you can see, she very much is a bibliophile in the making:

"Life, with its rules, its obligations, and its freedoms, is like a sonnet: You're given the form, but you have to write the sonnet yourself. - Mrs. Whatsit"

"If you aren't unhappy sometimes you don't know how to be happy."

"Le coeur a ses raisons que la raison ne connait point. French. Pascal. The heart has its reasons, whereof reason knows nothing."

"Qui plussait, plus se tait. French, you know. The more a man knows, the less he talks."

"It seemed to travel with her, to sweep her aloft in the power of song, so that she was moving in glory among the stars, and for a moment she, too, felt that the words Darkness and Light had no meaning, and only this melody was real."

"A book, too, can be a star, "explosive material, capable of stirring up fresh life endlessly," a living fire to lighten the darkness, leading out into the expanding universe."
"It was a dark and stormy night; Meg Murry, her small brother Charles Wallace, and her mother had come down to the kitchen for a midnight snack when they were upset by the arrival of a most disturbing stranger.

"Wild nights are my glory," the unearthly stranger told them. "I just got caught in a downdraft and blown off course. Let me be on my way. Speaking of way, by the way, there is such a thing as a tesseract".

Meg's father had been experimenting with this fifth dimension of time travel when he mysteriously disappeared. Now the time has come for Meg, her friend Calvin, and Charles Wallace to rescue him. But can they outwit the forces of evil they will encounter on their heart-stopping journey through space?"

If you haven't yet, be sure to snag a copy and check out A WRINKLE IN TIME. The movie comes out soon, so you'll want to be prepared for all of the epic adventures!
Goodreads / Amazon / Barnes and Noble / Book Depository / IndieBound