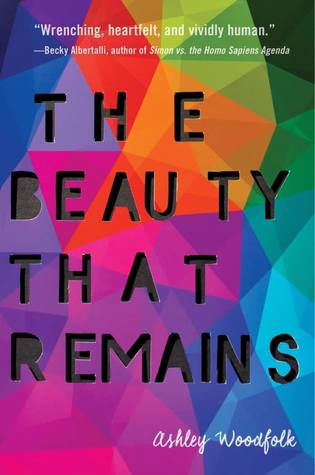 Title:
The Beauty That Remains
Author:
Ashley Woodfolk
Expected publication:
March 6th 2018 by Delacorte Press
Goodreads
/
Amazon
/
Barnes and Noble
/
Book Depository
/
IndieBound
"Music brought Autumn, Shay, and Logan together. Death wants to tear them apart.

Autumn always knew exactly who she was—a talented artist and a loyal friend. Shay was defined by two things: her bond with her twin sister, Sasha, and her love of music. And Logan always turned to writing love songs when his love life was a little less than perfect.

But when tragedy strikes each of them, somehow music is no longer enough. Now Logan can't stop watching vlogs of his dead ex-boyfriend. Shay is a music blogger struggling to keep it together. And Autumn sends messages that she knows can never be answered.

Each of them wonders: How different would my life be if this hadn't happened? And now that it has . . . what's next? "
Thoughts:
What originally drew me to this novel was (if I'm being honest) the title. After reading the summary, I had high hopes that this was one of those beautifully written novels with so much depth that it took my breath away. Well, I must confess...
It most certainly did.
THE BEAUTY THAT REMAINS deals with many issues both children, teenagers, and adults alike face today. Diversity, depression, suicide, substance abuse, and the struggles of coping with loss - All of these are very real, and this is all the more reason to help others (especially our youth) understand that hey, it's okay to be different. It's okay to ask for help, and it's okay to feel the way you do.
Autumn has lost her best friend Tavia and doesn't know how to cope. She emails Tavia everyday even though deep down she knows Octavia will never receive them. Shay is part of a twosome, a twin who has recently loss the other half of her to leukemia. Being part of a set, she constantly sees her sister in herself and is lost between grief and differentiating herself from who her sister was. Logan, who once shined so bright, has lost his ex-boyfriend to suicide and now struggles with alcoholism as well as so much regret for the things he wished he said.
As you can see, each one has a very different story and journey, but they all come together to find the beauty that remained (see what I did there?). It's a gorgeous, heartbreaking, tale that helps remind us what's important in life and to always, always live. Life truly is far too short, especially when it's taken away early. Fans of Gayle Forman, Adam Silvera, Morgan Matson, and David Levithan will eat this one right up.
Rating:

5 Stars